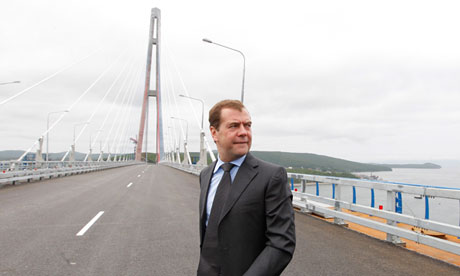 TO READ:
http://www.reuters.com/article/2012/07/03/us-russia-japan-islands-idUSBRE8620AV20120703
TO WATCH: 1:25 Video Report...with map, aerial fotos of isla.
http://www.euronews.com/2012/07/04/medvedev-angers-japan-over-island-visit
PM Medvedev spread ill-will...instead of goodwill on his tour of Russia's far east.
With the governor of Sakhalin province...he visited a disputed island called Kunashir... close to Japan's Hokkaido island.
Russia claims Kunashir island is part of Moscow's Kuril chain...while Japan has claimed it since WW2.
Diplomatic ugliness...ensued.
AND...bad publicity forced the USA congress to kill an Alaskan 'bridge to nowhere.'
Not so...in Russia.
Moscow is boasting about its $1.1 billion...3.1 km/1.9 mile long span in the far eastern city of Vladivostok...called Russia's own 'bridge to nowhere'...and just been completed...with

PM Medvedev taking a test spin on it.
Corruption charges and several deaths clouded the bridge's construction...conceived during the height of Russia's oil bonanza.
ORIGINAL POST:
http://www.guardian.co.uk/world/2012/jul/02/russian-vladivostok-record-suspension-bridge?newsfeed=true