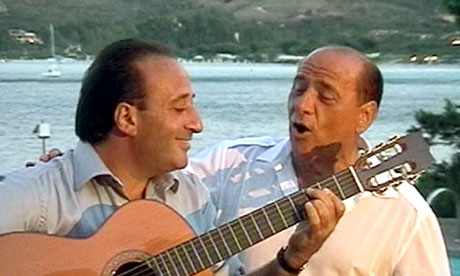 GUARDIAN
A eurozone economic crisis...so what?
On trial for 3 separate charges...including sex with an underage girl...no big deal?
So how about...some love songs?
Even with Italy's 10-year debt at a punishing record high...and low popularity...with tenuous control of the government...PM Silvio Berlusconi has recorded a CD of romantic love songs.
The album is called 'True Love'...with Silvio's lyrics...and music by his long time guitarist partner Mariano Apicella.
It was originally scheduled for a September release in Milan...but has been postponed until perhaps 22 November.
Berlusconi was once a cruise ship crooner and has already recorded 3 albums with Apicella.