http://www.dailymail.co.uk/news/article-2154933/EURO-2012-Violent-clashes-streets-Ukraine--days-football-championship-kicks-off.html?ito=feeds-newsxml
Kyiv experienced violent protests again...as legislators approved a preliminary bill that makes Russian an official language.
An estimated 9,000 clashed with police as the measure was debated in parliament.
Protesters fear the new language law will divide Ukraine along cultural and geographic lines.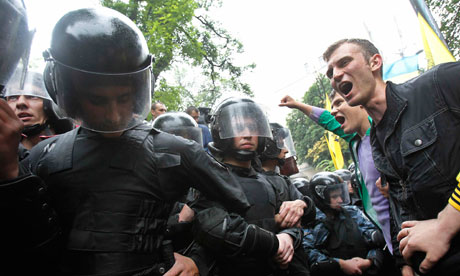 ALSO: A German doctor claims it's doubtful former PM Yulia Tymoshenko can recover from her severe spinal problems from treatment in Ukraine...but admits her condition is better.