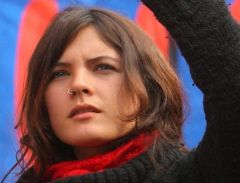 http://en.mercopress.com/2012/05/02/chilean-students-leader-rejoices-with-wsj-calling-her-a-re-diaper-baby
Mary Anastasia O'Grady's weekly WSJ column about Latin America is not known for subtlety...or appreciation of anything other than savage Ayn Randian capitalism.
So...it really wasn't a surprise when O'Grady labelled Santiago university leader and avowed communist Camila Vallejo...'a red-diaper baby'...because she was brought up by Salvador Allende followers...and because Vallejo is a fan of Fidel Castro.
Camila responded on TWITTER: "How it hurts them that Chile is becoming conscious! This is a sign of us advancing."
But famous dissident blogger Yoani Sanchez also criticized Vallejo after a 7 April visit with Fidel in La Habana...to celebrate the 50th anniversary of Cuba's young communists... when
Camila called Fidel 'a great visionary'.
Sanchez tweeted: "If I could talk to her, I would try to tell Camila of that other Cuba which is hidden or silenced by official propaganda'.
Vallejo did not visit with Sanchez or any dissidents during her visit.
TO READ: about Camila in Cuba and Yoani's tweet:
http://ilovechile.cl/2012/04/07/camila-vallejo-cuba/52792
TO READ (free, full access): O'Grady's WSJ Column about Chile:
http://online.wsj.com/article/SB10001424052702304723304577370242286427820.html