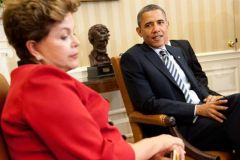 http://en.mercopress.com/2012/04/10/rousseff-complains-about-us-expansionist-monetary-policy-during-meeting-with-obama
First...the White House held its annual Easter Egg hunt for the kids.
Then...President Obama received President Dilma Rousseff...for a light lunch.
There was no pageantry or state dinner...for Dilma's first official visit.
Brasil is looking for respect...to be taken seriously...as the "B" in BRICS...and the new number 6 in the world economy.
Brasil sees itself as a world player...a BIG boy...even if led by a new woman technocrat.
It lusts for a seat on the UN Security Council...and the USA's backing...which seems lacking.
In the 75 minute meeting...Rousseff especially blasted the USA and EU's cheap money policies that quickly becomes 'hot' money seeking higher returns in Brasil, warned about blow back from Iranian sanctions...and remarked on Cuba's exclusion from an upcoming America's summit in Colombia.
The USA also lacks a trade agreement with Brasil...even as trade increases...but China's importance still dominates.
Overall some described the meeting...as 'cordial'...and ran
30 minutes over schedule.
NEW!!! TIME reporter Tim Padgett's analysis of meeting; clears up some perceptions.
http://globalspin.blogs.time.com/2012/04/11/the-u-s-and-brazil-why-the-two-leaders-of-the-americas-should-take-each-other-more-seriously/