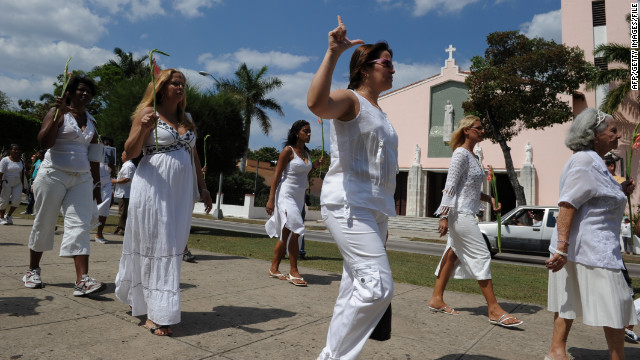 http://www.bostonherald.com/news/international/americas/view/20120320cubas_ladies_in_white_warned_public_protests_no_longer_allowed/srvc=home&position=recent
In what may be a sign of renewed state oppression before Pope Benedict's visit to Cuba...secret police briefly 'detained' 70 members of the dissident 'Ladies in White'.
They were rounded-up and hauled away in buses after their weekly Sunday march along 12 blocks in La Habana...veered off its approved route.
They were reportedly told by secret police that no more protests would be allowed... anywhere on the island.
At least 12 other dissidents were reported under arrest in other parts of the isla.
The Ladies in White have been allowed to march to Santa Rita church in the Miramar barrio of La Habana every Sunday since 2010.
Many dissidents are criticizing Cuba's Cardinal Ortega...for the removal of 13 protesters from a church...who were seeking a brief meeting with the Pope.
"The cardinal is acting like the first two of the three wise monkeys, who could neither see evil nor hear it," claimed one prominent dissident.