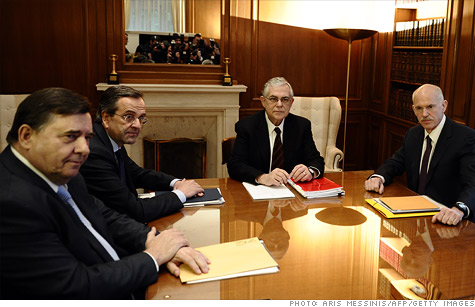 http://www.reuters.com/article/2012/02/06/us-greece-idUSTRE8120HI20120206?feedType=RSS&feedName=topNews&rpc=71&google_editors_picks=true
Endless arguing is reported in Athens...over how to produce the reforms demanded by Germany, France and the eurozone...to obtain the E130bn/$170bn rescue funds Greece needs.
Chancellor Angela Merkel is impatient about the delays.
"I honestly can't understand how additional days will help. Time is of the essence. A lot is at stake for the entire eurozone," she said.
Greece's E14.5bn of debts must be repaid by mid March...money that it doesn't have.
Meanwhile...Greek pols dread making any more tough and unpopular choices...facing a probable general election in April.
One Greek pensioner summed-up the feelings of many. "We must stay in the euro but I want politicians to pay. I want them to feel the austerity."