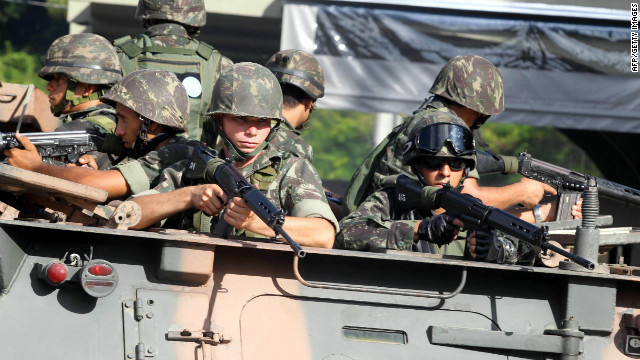 LINK CHANGE
http://www.bbc.co.uk/news/world-latin-america-16961630
Salvador's world famous Carnaval celebration...is about a week away.
And...more tourists are growing nervous about going there.
Even with 3,500 troops...the government can't control growing numbers of murders, assaults, looting and robberies...on the 10th day of a police strike.
137 murders have been reported in the metro area...since the strike began.
A government official claims some striking police are spreading disorder to force a settlement.
But...200 strikers and families finally abandoned their legislature building occupation...while surrounded by 1,000 special police.
Despite many troops...Salvador residents fear the growing crime.
Tourist businesses report increasing cancellations.
Officials say 10,000 of the state's 31,000 police are striking...for a 50% pay hike.
Salvador is Brasil's 3rd largest city.
TO SEE: :40 strike Video:
http://www.guardian.co.uk/world/video/2012/feb/07/brazil-army-police-strike-video