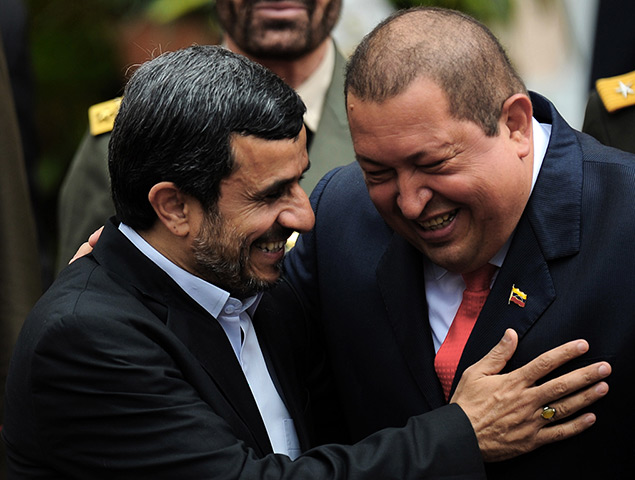 BLOOMBERG
Iran's beleaguered President Mahmoud Ahmadinejad arrived in Caracas on a 5 day...4 nation tour of Latin America.
He will also visit Nicaragua, Ecuador and Cuba.
Noticeably absent is a stop in Brasil.
With supporter President Lula da Silva gone...new President Rousseff appears cool to Ahmadinejad.
It is the testy Iranian's 5th visit to Latin America.
Iran is looking for support anywhere it can get it...as pressure grows from world powers over its nuclear development...and recent threats to throttle oil shipments.
"Latin America is a region that the oppressive regime(USA) sees as its backyard where it can do as it likes. But today the people have awoken and are acting independently," said Ahmadinejad.
Ahmadinejad has made many economic pledges there...but fulfilled none.
Chavez himself has made 9 visits to Iran...and signed over 100 deals with it.
AND:
President Chavez will pull out of a World Bank affiliated arbitration group...that is considering another massive Exxon/Mobil compensation case.
The Center for Settlement of Investment Disputes/ICSID...has 20 cases under consideration against Venezuela.
Chavez announced his intention to leave the ICSID on his first 'Alo Presidente' TV show since a June cancer diagnosis. "We've got to get out of that ICSID."
http://www.bloomberg.com/news/2012-01-08/venezuela-won-t-accept-icsid-verdict-on-exxon-chavez-says.html