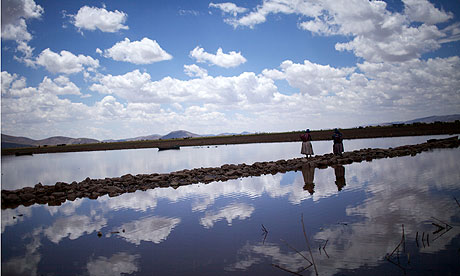 GUARDIAN
Famous pristine Lake Titicaca is growing polluted from increasing levels of untreated waste from fast-growing cities.
El Alto sits in the Titicaca watershed...and is now Bolivia's 2nd largest city.
For 20 years...El Alto has grown by 4% a year...because of peasants seeking a better life.
Its sewage is barely treated by an overtaxed wastewater plant.
"There is no complete and structured treatment of wastewater," said Marco Ribera Arismendi of the Environmental Defense League in La Paz. "The things governments have done so far are like giving an aspirin to someone who has been shot."