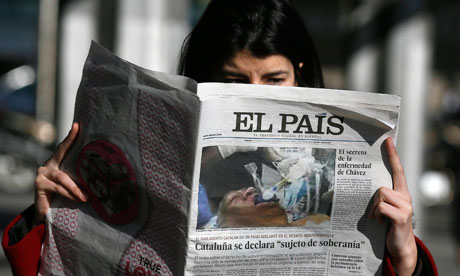 http://www.guardian.co.uk/world/2013/jan/25/venezuela-el-pais-hugo-chavez
2ND LINK CHANGE
Wishing and hoping...won't make it come true.
Spain's leading newspaper El Pais...published in print and online...what it called 'an exclusive'...a foto that claimed to show Venezuela's Hugo Chavez...in a hospital bed... heavily tubed-up.
But it quickly withdrew the online foto...and restarted its print run...when it ascertained that the foto was not authentic.
Many remembered the foto from a 2008 video.
Now officials in Caracas say they will sue the news organization for attempting to 'smear' the nation.