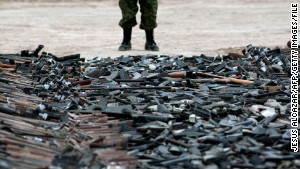 http://edition.cnn.com/2013/01/05/world/americas/mexico-juarez-killings-drop/index.html?hpt=ila_c2
Good things are finally happening in violence wracked border town...Cd. Juarez.
Not long ago...it was called the the world's deadliest city.
No longer.
San Pedro Sula in Honduras unofficially overtook Juarez in 2011...even with 1,143 deaths...because of a smaller population...with 159 deaths per 100,000.
But...Juarez's unsolved murders plummeted from 2,086 in 2011...to 765 in 2012.
It still registers more murders than NYC...but 2012 recorded the fewest deaths in 5 years.
The reasons for the decline are being debated...but it has helped the city to recover economic growth.
Critics claim the major change is that Sinaloa's narcos won the nasty battle over the city's plaza/drug traffic .
Whatever the reasons...the violence that once forced hundreds of businesses to shutter and thousands to flee...has declined and allowed many shops to re-open.