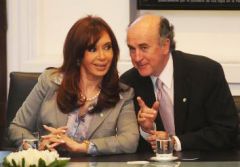 http://en.mercopress.com/2013/01/08/argentina-charters-private-uk-plane-for-cristina-fernandez-next-tour-to-avoid-legal-surprises
President Cristina Fernandez has committed to attend tomorrow's virtual inauguration of President Hugo Chavez in Caracas.
She will fly there on a jet chartered for $880,000 from a UK company...to avoid her usual plane...a Boeing 757 called Tango 1...from being impounded by officials for a NYC 'vulture fund'...NML Capital.
Promoting trade...Fernandez will also visit the UAE, Indonesia and Vietnam on the deluxe jet...that she has hired in the past...and that costs 20% more than the state's plane.
An Argentine naval training ship...the Libertad was tied-up in Ghana for 78 days after the NYC hedge fund persuaded officials there to impound the ship...while demanding millions in payments.
It was finally freed by an Accra court...and no payments were made.