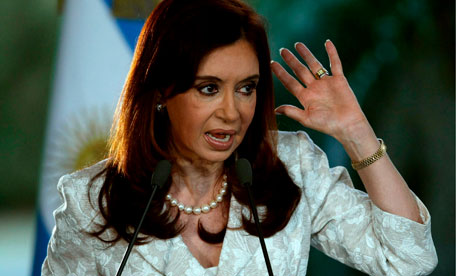 IST LINK CHANGE
http://www.reuters.com/article/2012/11/24/us-argentina-debt-idUSBRE8AM0Q420121124
An NYC judge...exasperated by 10 years of litigation...ordered Argentina to pay so-called 'vulture funds'...NML Capital and others...$1.33 billion...for its sovereign bonds and interest...when it pays other holders of some $60 billion of its renegotiated sovereign debt...their $3.4 billion of interest payments due in December.
President Kirchner has long vowed to never pay 'scavenger' stakeholders for debts she calls illegitimate...because they were acquired under a dictatorship from 1976-83.
But Kirchner has few options.
District judge Thomas Griesa, 82...will allow payments put into escrow by 15 December...while Buenos Aires appeals his decision.
This is a complex legal and financial issue involving a 2001 default...2 renegotiations... and possibly a future default by Argentina.
Kirchner's popularity is also at a new low.
The decision follows by days a mammoth 24 hour national strike against her government...the biggest in a decade.
This decision is also important for the precedent it might set...for other nations...and future debt defaults...because no party would accept debt restructuring...if they could wait...sue...and eventually obtain 100%.
A top Argentine official called the decision 'judicial feudalism.' (WSJ)
TO READ : Detailed but technical analysis...by Felix Salmon.
http://blogs.reuters.com/felix-salmon/2012/11/22/why-we-might-soon-see-another-argentine-default/