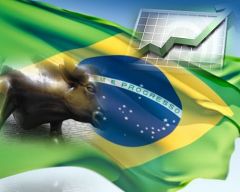 http://en.mercopress.com/2012/10/11/in-divided-decision-brazil-central-bank-cuts-basic-rate-another-25-points-to-7.25
The Tombini led central bank again dropped its benchmark rate...by 25 bps...to 7.25%...a historic new low.
It was the 10th rate drop since August 2011...but the vote was not unanimous.
The Cbank recently lowered its 2012 GDP estimate...to 1.6%...from 2.5%.
Some government optimists had predicted 3.0% growth this year.
Brasil's 12-month inflation is currently pacing at 5.28%...higher than the 4.25% target.