http://www.bbc.co.uk/news/world-latin-america-19824992
Some of Argentina's military are up in arms...over pay cuts as large as 60%.
Protests of military police and coast guard members erupted in Buenos Aires, Cordoba and Rosario.
The government fired the heads of both services.
Officials blame administration errors for the drastic pay cuts...that were only to affect top officers.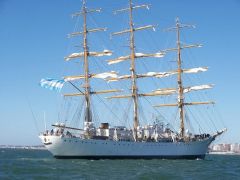 UPDATED!!! IST LINK CHANGE:
The navy training frigate 'Libertad' is being held in Ghana...on the order of a local top court...for the benefit of a Cayman based 'vulture hedge fund'...NML...headed by Paul Singer (foto)...who is demanding full payment of $1.6 billion for long defaulted sovereign bonds.
http://www.dailymail.co.uk/news/article-2213444/Billionaire-buccaneer-seizes-Argentinian-navys-flagship-countrys-unpaid-debts.html