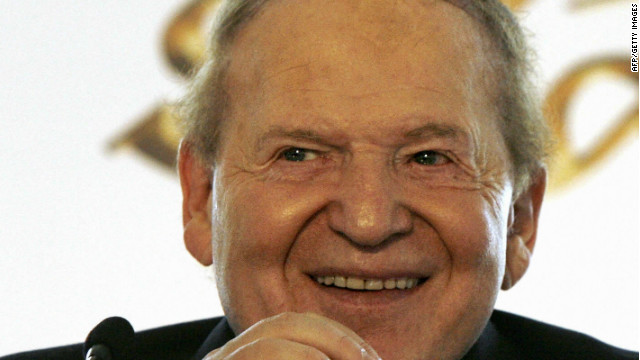 http://edition.cnn.com/2012/09/08/business/spain-eurovegas-resort/index.html?hpt=ieu_c2
Oye, Madrid!
Cuidado!
Billionaire USA rightwinger Sheldon Adelson...is coming to your town.
His Las Vegas Sands corp has selected your capital area for a new $22 billion casino and hotel complex...instead of beautiful Barcelona.
Adelson has promised jobs, jobs and more jobs...up to 250,000.
Good luck with that!
Most of those jobs will be low paid...and unskilled...service jobs.
In the USA...Adelson...worth an estimated $25 billion...vowed to pour $100 million into the presidential election for the increasingly rightwing Republican party and candidate Mitt Romney.
Adelson has already spent $50 million on GOP candidates to push his vulture capitalism agenda.
No doubt...Adelson sees a weakened Spain with 25% unemployment...as ripe for exploitation.
Spain's conservative PM Rajoy will no doubt tout this Sands deal...as a Second Coming of new prosperity.
Beware...the Sands will only provide 35% of equity...but 100% of the promises.