IST LINK CHANGE:
http://www.france24.com/en/20120906-birdman-putin-flies-with-rare-cranes-over-siberia
President Vlad Putin donned white coveralls...but refused to wear a pointy bird beak...and flew briefly on a wobbly ultralight...but followed by only 2 endangered Siberian white cranes...leading them for a short distance on the beginning leg of the annual 5,000 km migration to central Asia...from the remote Yamal peninsula.
It took the reluctant birds 2x tries to bond with Putin.
Of course...state TV broadcast the flight on a sometimes dangerous ultralight.
An experienced co-pilot also flew on the tiny craft with Putin.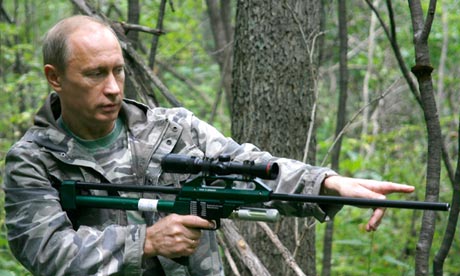 About his many stunt foto ops with leopards, tigers and polar bears...Putin has famously said...'The more I know people...the more I like dogs.'
TO SEE: 19 more Fotos Of Putin's Staged Adventure Exploits:
http://www.spiegel.de/fotostrecke/photo-gallery-putin-s-wild-side-fotostrecke-87083.html
ORIG LINK:
http://www.telegraph.co.uk/news/worldnews/vladimir-putin/9522977/Putin-to-fly-with-cranes-in-latest-publicity-stunt.html