2ND LINK CHANGE:
http://edition.cnn.com/2012/09/20/world/americas/mexico-prison-break/index.html?hpt=ila_c1
Police report finding 5 prisoners...but 129 more are still on the loose...after escaping from a Piedras Negras minimum security prison...close to the USA border.
Officials now admit their tale of escapees using a
tunnel dug from a carpentry workshop to a perimeter fence 100 feet away....was a LIE!
ALL the inmates walked out the front door!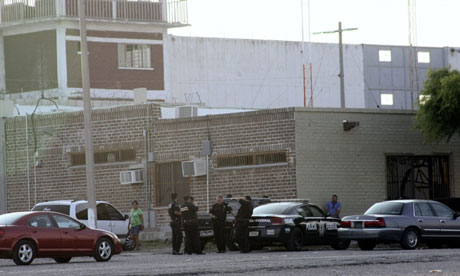 It's the biggest mass breakout in Coahuila state.
86 escapees were federal prisoners...with 46 jailed on local charges.
Experts speculate the fearsome Los Zetas narco gang arranged the escape.
The warden and 15 employees were arrested.
It raises more questions about Mexico's leaky and dangerous prison security measures.