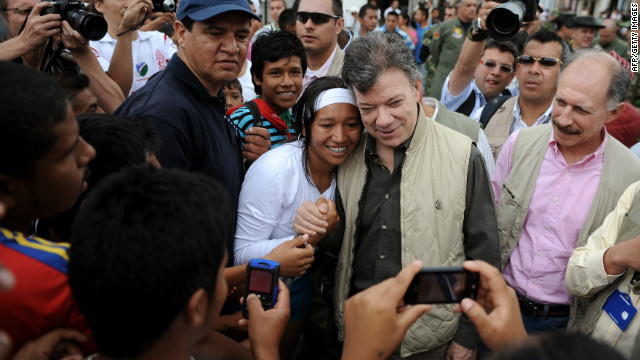 http://www.bbc.co.uk/news/world-latin-america-18810815
Even after the military uncovered a plot by rebels to assassinate President Juan Manuel Santos by blowing up a helipad for his copter...he went ahead and visited Toribio on Wednesday...a city in the FARC's southern stronghold of Cauca.
Residents want the army and the rebels to leave the area...ending the nonstop violence.
Santos heard boos...and stray gunfire before his meeting.
An explosion even occurred near the police station.
A Super Tucano air force plane used to support the Santos visit was also reported missing...alleged to have been shot down by rebels.
ALSO: A John Otis Analysis: The ugly feud between Alvaro Uribe and Santos; Uribe seems vindictive...and critical of security and criminal pursuit of his allies.
http://world.time.com/2012/07/13/in-colombia-the-war-between-the-presidents/
AND
: Santos' popularity has slipped dramatically since he took office 2 years ago...from 76% to just 48%...in one poll.
His critics complain that he has allowed the FARC to rebuild...and he has suffered non-stop TWITTER sniping from ex-President Alvaro Uribe.
But the economy and peso have strengthened under Santos...as has foreign investment.
http://in.reuters.com/article/2012/07/10/colombia-santos-idINL2E8I95OC20120710
PLUS: Oscar Ivan Zuluaga, Finance Minister under Uribe...announced a run for president. He abhors Santos' 'security backslide.'
http://www.reuters.com/article/2012/07/12/us-colombia-politics-idUSBRE86B11S20120712