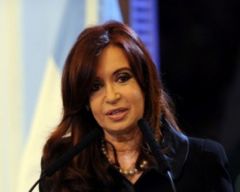 http://en.mercopress.com/2012/06/11/opinion-poll-shows-support-for-cristina-fernandez-sliding-significantly
The popularity of President Cristina Fernandez is suffering from her nation's ongoing high inflation, corruption charges and currency measures that make the $usd scarce.
A recent poll show disapproval of her government soared from 29% to 50.4%.
Her popularity dropped to 39%...while disapproval was 50.4%.
After her landslide October re-election...Cristina had a 63% approval rating.
AND : The number of tourists is declining...as the nation becomes too expensive for many...especially visitors from the EU.
Continued 25% inflation and high domestic airfares are blamed.
http://en.mercopress.com/2012/06/09/argentina-rapidly-becoming-too-expensive-for-foreign-tourists