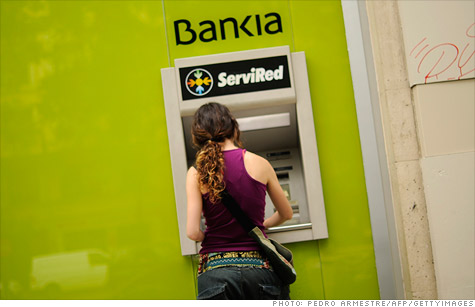 http://edition.cnn.com/2012/05/26/business/spain-bank-cash/index.html?hpt=ieu_c2
Bankia's president...tried to calm growing fears...over Spain's biggest mortgage lender and #4 largest bank.
He claims Bankia will emerge stronger after a massive E23.5 billion/$29.5 bn government bailout.
On Friday...he asked for $24 bn more...only weeks after originally requesting just $11 bn.
Bankia's
credit rating was also reduced to 'junk' status by S/P.
It was formed in a forced 2010 merger of 7 local savings banks...and burdened with their billions in real estate loan losses.
Experts say Spanish banks...with $300 bn in troubled loans...may need $50-$100 bn more in bailouts.
It's not clear that Madrid can handle its banking crisis...without Eurozone and ECB help.