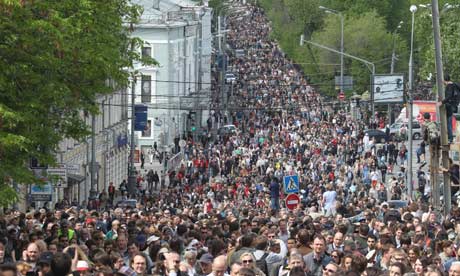 http://www.guardian.co.uk/world/2012/may/13/russian-protests-march-occupy-abay?newsfeed=true
For nearly a week...several hundred have camped-out at Chistye Prudy...in front of a statue of the 19th century Kazakh poet Abay.
Sunday...15,000 took to the streets to support the Russian and anti-Putin version of the Occupy movement...now known as called Occupy Abay.
The campers and opposition expect Putin's troops to clamp down soon.
Putin's own spokesman said Moscow's riot cops responded "too softly' in reacting violently to inaugural eve protests.