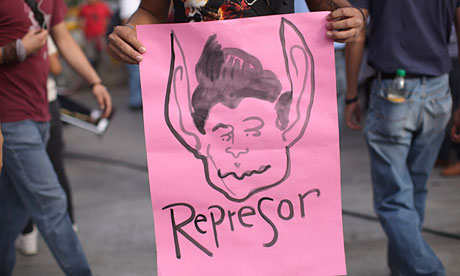 http://online.wsj.com/article/SB10001424052702304065704577422583424185496.html
Mexico really has only 2 major TV networks...Televisa and Azteca.
They control 95% of the market.
Now...university students are protesting what they say is favoritism for the PRI presidential candidate...Enrique Pena Nieto...by the 2 media giants...ahead of the 1 July election.
An estimated 46,000 marched over the issue in the DF on Saturday...but Televisa especially downplayed the rally.
More protests are planned.
The handsome if vacuous Pena Nieto currently has a huge lead in polls...with 46%...over 2 opponents virtually tied at 26%.
Of course, Pena Nieto is married to a Televisa telenovela star..and Televisa maintained close relations to the PRI for decades...when it ruled Mexico.