http://www.bloomberg.com/news/2012-05-01/bolivia-seizing-assets-of-spanish-power-generator-red-electrica.html
It was May Day...and another bad day for Madrid's bolsa...as President Evo Morales seized Spain's Red Electrica assets in Bolivia...and total control of its power grid.
Morales claimed the company's improvements and investments were inadequate.
This seizure comes just 2 weeks after Argentina took over all of Madrid based Repsol's YPF assets...valued by Repsol at $10.5 billion...a figure disputed by Buenos Aires.
Bolivia delivered less than 1.5% of sales for Red.
An independent auditor will set compensation.
In 2005...it's value was estimated at $225 million.
The Spanish government owns 20% of Red.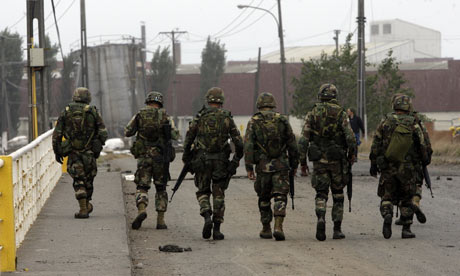 "This company was ours before and we are nationalizing what was ours before," Morales said.
"
Energy is a strategic sector that should subject to government control,' said the communications minister.
"Red Electrica's investments were excessively low."
The military was ordered to protect Red assets.