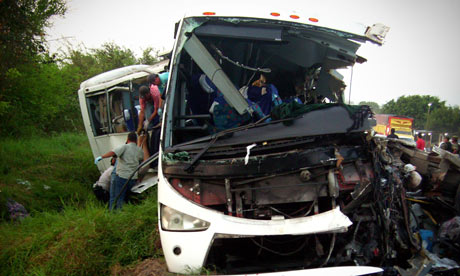 FIRST LINK CHANGE
http://www.laht.com/article.asp?ArticleId=495369&CategoryId=14091
Do tragic bus accidents also occur in 3's...like plane crashes?
Following a deadly bus accident in Bolivia...at least 43 were killed in Veracruz...including 5 children...with 27 reported injured...after a truck/bus collision.
Around 5 am...a trailer reportedly detached from a truck approaching the overloaded Butron Line bus...and smashed into it near Alamo.
Most of the victims were farm workers.
The truck's driver fled the scene.
FOR MORE DETAILS: Watch 1:19 Video Report...En Esp And Read:
http://mexico.cnn.com/nacional/2012/04/20/un-accidente-de-transito-deja-43-muertos-en-el-norte-de-veracruz