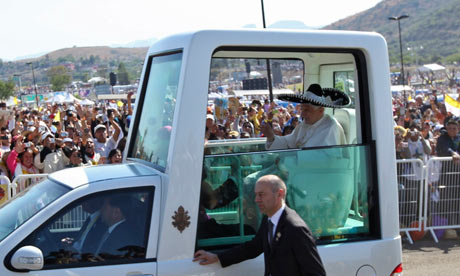 http://www.youtube.com/watch?v=qZGRYFXtp8w&feature=player_embedded
TO SEE 1:18 Video Report
Enthusiasm for Pope Benedict 16's first visit to Mexico...surged after his arrival in Leon...as crowds lined the 32 km/20 mile route from the airport to the city centre.
An estimated 300,000 are expected to attend a mass there...protected by over 30,000 troops and federal police.
One resident said:

"Everyone has a different reason for being here. I hope to become a better person. I hope that we stop shooting each other."
TO READ:
http://www.google.com/hostednews/ap/article/ALeqM5g_5aQe6cg5T8DTBhoeaA1_UfNmYQ?docId=004aba25d8834e6fa7ceac7752705a1c