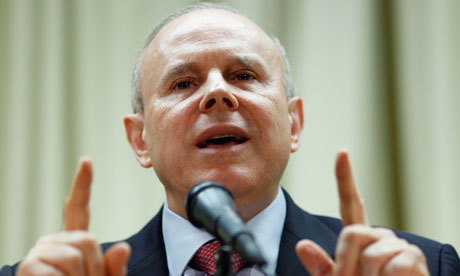 http://www.bloomberg.com/news/2012-03-06/brazil-s-gdp-growth-of-2-7-last-year-underperformed-bric-peers-economy.html
The 'B' in BRIC might stand for 'Bad"...as 2011 registered Brasilia's slowest economic growth...since 2003...with miserly 2.7% GDP growth...barely escaping technical recession.
By contrast, in 2010...Brasil had a blistering 7.5% growth.
Brasilians blame the REAL's worsening exchange rate...but outsiders see the need for structural reforms, lower inflation and lower taxes.
With China targeting a mere 7.5% GDP growth in 2012...demand for Brasil's strengths... raw commodities...especially soya and iron ore...will no doubt lessen.
FinMin Guido Mantegna (foto) says Brasil will lower interest rates...now 10.5%...and among the world's highest.
Most experts estimate Brasil will grow by 3.0-3.5% in 2012.
The good news is the REAL has retreated from the critical 1.70/usd level...to 1.76 today.
AND
: In 2011...Brasil officially overtook the UK...as the world's 6th largest economy.
But if its mediocre performance continues...India and perhaps even Russia will replace it by 2020.
http://www.bbc.co.uk/news/business-17270649