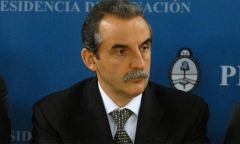 http://en.mercopress.com/2012/03/28/incident-with-poland-argentine-official-refers-to-poles-as-bums-and-stinking-feet
What exactly is going on in Argentina?
President Cristina Kirchner continues to pick away at the UK over the Malvinas/Falklands.
And now...top trade official Guillermo Moreno reportedly insulted local residents of Polish ancestry at a meeting of yerba mate growers in the northeast...calling them 'bums'...and 'stinking feet Poles.'
Ambassador Jacek Zazanski (foto) has demanded an explanation.