http://www.guardian.co.uk/world/2012/feb/26/russians-protest-putin-moscow
At least 34,000 protesters on Sunday...linked hands for an hour...forming a human chain along the 10-mile...8 lane...major road ringing Moscow's center.
They protested the likely return of PM Putin in March..as president...while many motorists honked in support.
It was the largest opposition protest...since December.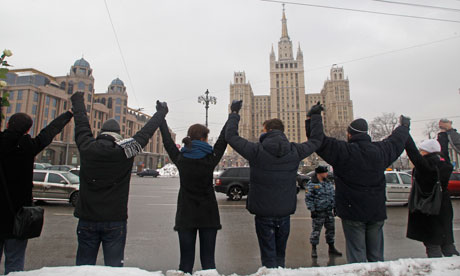 TO WATCH 1:30 REPORT
...after :15 ad:
http://www.bbc.co.uk/news/world-europe-17173261
AND: Russia's internet...is now loaded with satire, humor and irony...all at PM Putin's expense...in
a big shift...from the somber early years of his rule.
http://www.nytimes.com/2012/02/26/opinion/sunday/political-satire-returns-to-russia.html?_r=1&ref=opinion&pagewanted=all