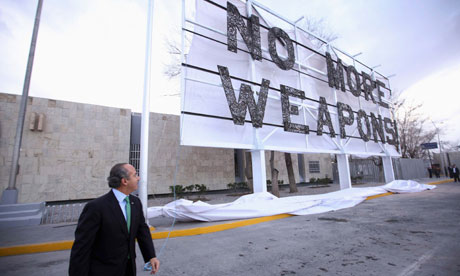 http://www.guardian.co.uk/world/2012/feb/17/no-more-weapons-billboard-us-mexico?newsfeed=true
In violence wracked Cd. Juarez...President Felipe Calderon unveiled a huge new billboard that demands... "No More Weapons."
The 3-ton sign is visible across the border in El Paso, Texas.
Calderon also watched as his army destroyed thousands of seized weapons, grenades, bullets and 3 rocket launchers at a military base.
He blames lax USA regulation of weapons sales for most of the guns confiscated from narco gangs.
Mexico strictly controls weapons sales.