LINK CHANGE: With 17 fotos
http://www.dailymail.co.uk/news/article-2099230/Greece-Riot-police-flames-protesters-armed-petrol-bombs-rampage-Athens.html
After peaceful protests Thursday night...a 48-hour strike turned violent on Friday...with widespread rock throwing and fires set by some of the 18,000 demonstrators...followed by tear gas from police.
There were 11 detentions, 6 arrests and a few injuries.
Despite hopes that the parliament would agree to new austerity measures including a 22% cut in the minimum wage and firing 15,000.
So far...6 deputy ministers resigned and all 16 members of the far right LAOS party refused to vote for the plan...but 80 more MPs are needed to stop the measures.
One LAOS member said: "Clearly Greece can't and shouldn't do with the EU...but it could do without the German jackboot".
Creditors want $430 million in additional cuts...and written agreement by all parties to the plan...before a $19 billion March tranche is released.
The renewed Greek chaos...sent world markets down.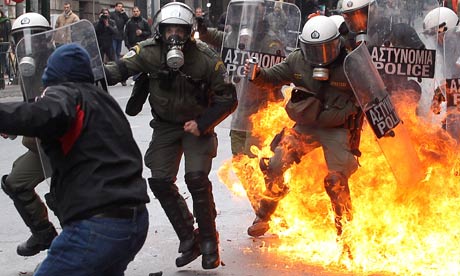 UPDATE: TO READ: ANALYSIS
http://www.reuters.com/article/2012/02/11/us-greece-idUSTRE8120HI20120211?feedType=RSS&feedName=topNews&rpc=71&google_editors_picks=true