http://blogs.telegraph.co.uk/news/nilegardiner/100132407/britain%E2%80%99s-falklands-message-to-argentina-don%E2%80%99t-even-think-about-it/
The British are sending their new state of the art destroyer...the HMS Dauntless...to the disputed Falklands/Malvinas islands.
The deployment of the Type 45 destroyer will be her maiden voyage...and she replaces the HMS Montrose.
However...UK Admiral Lord West claims the voyage is not a ramping up...for possible hostilities.
Type 45s have anti-air missiles, helicopter decks large enough for a Chinook...can carry 60 troops...and evacuate as many as 700 people.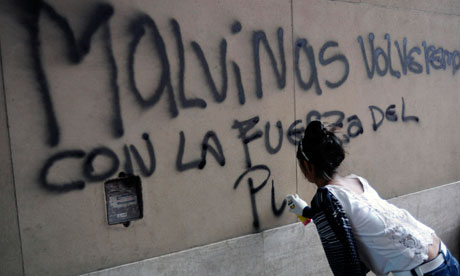 AND: UPDATE :
The Brits claim that Buenos Aires may be planning a defacto economic blockade of the islands...by cancelling all flights.
The only air link to the Malvinas is one weekly flight on LAN from Chile.
http://www.guardian.co.uk/uk/2012/feb/01/argentina-falklands-economic-blockade?newsfeed=true