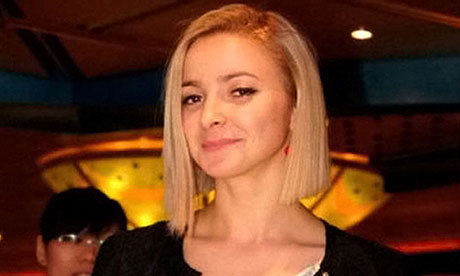 LINK CHANGE/ NEW DETAILS!!!
http://www.guardian.co.uk/world/2012/feb/02/costa-concordia-cruise-ship-rep
Oh, oh!
A new report reveals that clothes of a young Moldovan dancer/translator were found in the captain's cabin of the wrecked Italian cruise ship Costa Concordia.
Captain Francisco Schettino, 51, was reported eating dinner...and sharing wine...with a young woman...just before the huge cruise ship smashed into the rocks.
The dinner companion was revealed as Moldovan dancer/translator...Domnica Cermontan, 25...a 5-year employee of the cruise company...originally from Chisinau.
She had vehemently defended Schettino's actions on Moldovan TV...and denied an affair.
After 6 hours of interviews by Italian officials...Cermontan now admits that she was in love with Schettino.
Searchers found her clothes...including underwear and cosmetics...in his captain.
She also admits she was on the ship's bridge when it hits the rocks that capsized it.
Schettino (above) is under house arrest near Genoa...accused of manslaughter.
32 passengers are feared dead from the accident...but only 17 bodies have been recovered.