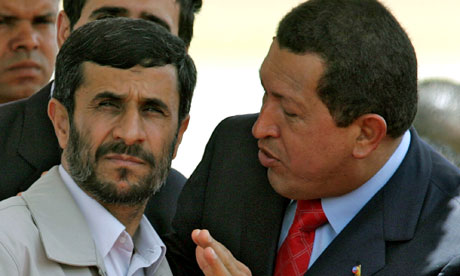 GUARDIAN / T.PHILLIPS
Before departing for a Mercosur summit in Montevideo...President Hugo Chavez reacted to President Obama's recent negative comments about the cozy relations between Caracas and Tehran.
Chavez called Obama a "clown" and "embarrassment".
"Focus on governing your country, which you've turned into a disaster,"Chavez told state TV.
"Mr Obama decided to attack us," he said. "Now you want to win votes by attacking Venezuela. Don't be irresponsible. You are a clown, a clown. Leave us in peace…Go after your votes by fulfilling that which you promised your people."
"Chávez seizes every opportunity he can find to have a fight with the United States, and his response to this interview follows that line faithfully," observed a USA professor. "[But] Obama's motives for doing the interview were less predictable. The United States has been trying not to say too much about Venezuela in public since the last few years of the Bush administration. It's a policy of avoiding verbal confrontations at all costs," he said.