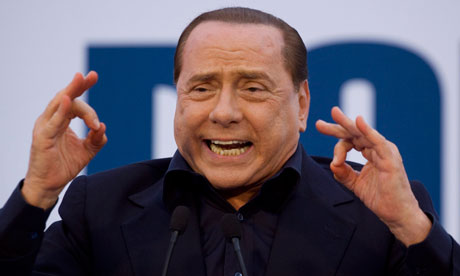 GUARDIAN/ T. KINGTON
Silvio Berlusconi is no longer Italian PM.
Because of that...slippery Silvio has also lost immunity.
Now...just simply a billionaire media mogul...he faces 3 trials before Christmas: for paying underage Moroccan dancer Karima "Ruby" El Mahroug for sex; bribery, and finally fraud.
Judges in Milano have released a list of 214 witnesses...for the 2 December start of Silvio's sex trial...that includes actor George Clooney, Portugal footballer Cristiano Ronaldo and 32 starlets, showgirls and dancers...including the 'leading lady'... a now pregnant...Karima El Mahroug...aka "Ruby Heartstealer."
"Berlusconi no longer enjoys the same right to avoid trials that he did as prime minister and we are expecting a very busy month," said an observer.
Silvio no longer can postpone trials by simply claiming a PM's privilege.
"Now, if he doesn't show up, and we don't expect to see much of him, the trial simply proceeds without him."