TELEGRAPH
Germans are just starting to realize how their nation's security services nearly failed them...after a neo-nazi gang was busted because of a failed bank robbery.
The gang may have murdered 9 immigrants...and a policewoman.
The members allegedly had a hit list of 88 more targets...prominent politicians and leaders of the Turkish and Islamic communities.
The number 88 may be code for Adolf Hitler in neo-Nazi circles because the letter H is the eighth letter of the alphabet and stands for 'Heil Hitler'.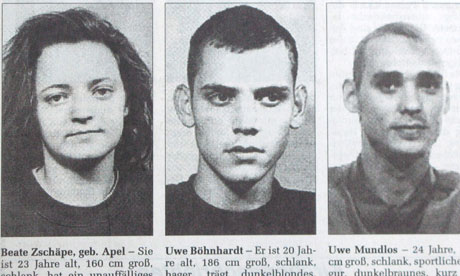 After the busted bank robbery, 2 of the 3 gang members killed themselves.
The third surrendered to police...but only after destroying the Zwickau hideout.
FOR More Details:
http://www.google.com/hostednews/ap/article/ALeqM5i3fWqLZ__GBDaFZrgWuYVeX3htQA?docId=48cf57d4198b4f35b3f073f37626f056