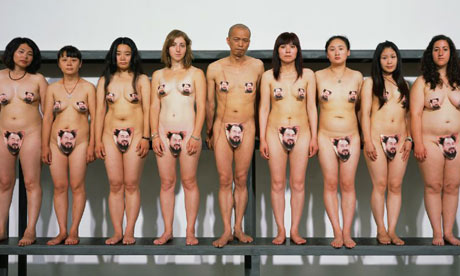 GUARDIAN/T.BRANIGAN
Like the totalitarian regime it is...Chinese officials just won't leave artist/dissident Ai Weiwei alone.
First they imprisoned, interrogated and tortured him for 81 days.
Then they fined him over $2mn for alleged unpaid taxes and penalties.
But many anonymous donors sent money to help Ai pay the sum.
Now Ai Weiwei is being investigated for spreading pornography...because of pictures showing him with 4 naked women.
Many of the artist's admirers are baring almost all...in ingenious ways...to show their scorn for the dubious government probe...in a society where pornography is widespread.