http://www.france24.com/en/20121111-clashes-mar-polands-independence-day-celebrations
Thousands of Warsaw police repelled masked rock throwing and slogan chanting ultra rightists...with rubber bullets and tear gas...as the nationalists crashed a peaceful march of an estimated 20,000...honoring Poland's freedom after WW1.
At least 22 police were injured, 13 people were treated for injuries....and 176 extremists were detained.
For the second consecutive year...the independence march has turned violent.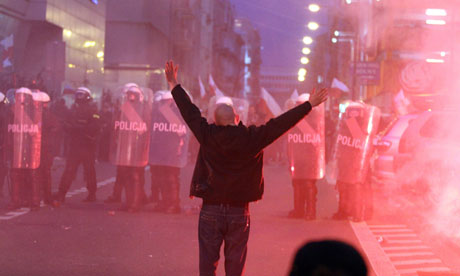 TO WATCH : :55 Video Report
http://www.euronews.com/2012/11/11/violence-marrs-independence-day-in-poland