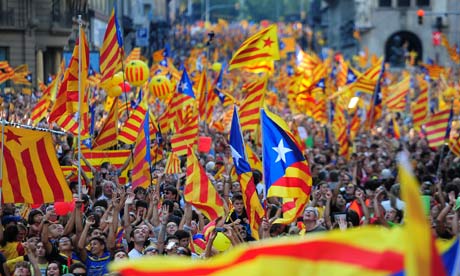 IST LINK CHANGE:
http://world.time.com/2012/09/11/barcelona-warns-madrid-pay-up-or-catalonia-leaves-spain/
Detailed
ANALYSIS
More than 1.5 million people rallied in Barcelona...demanding independence for their province Catalonia.
New polling shows 46.4% support for 'libertad'.
In Madrid...conservative PM Rajoy dismissed the rally...saying the nation needs jobs...not 'big gestures like this.'
Recently...Barcelona asked for a 5 billion euros loan from Madrid...but Catalans see the money as rightfully theirs...since their region is Spain's most prosperous.
Barcelona also claims it plans to build a gambling mecca...even after a USA billionaire chose the Madrid area instead for a proposed $22 billion EuroVegas.
TO WATCH : 1:07 Video Report
http://www.euronews.com/2012/09/12/thousands-turn-out-to-demand-catalan-autonomy