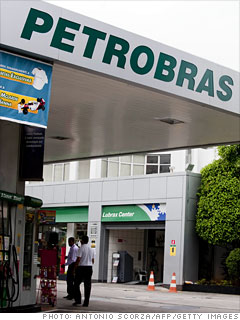 http://www.bloomberg.com/news/2012-08-06/petrobras-posts-surprise-quarterly-loss-on-weak-brazil-currency.html
Blame it on...the REAL.
In Q2...Brasil's currency sunk in value vs the USD by 9%...pushing up costs...resulting in a $666 million surprise loss for Petrobras.
It was Petrobras' first quarterly loss...in 13 years.
PBR shares dropped 5.6%...before ending down by 2.1%.
The company blamed lower output, writing off 41 dry holes and losses on imported fuels for the massive...satanic numbered loss.
PBR's new boss did increase gas prices by 7.8% in June...but critics say they still do not reflect $90 bbl market levels.