http://www.npr.org/2012/06/16/155169610/greece-prepares-to-give-elections-another-go
TO HEAR 4:10 report...with transcript.
The reliable Sylvia Poggioli describes the desperation in Athen's streets before tomorrow's important and historic parliamentary vote...the 2nd in 6 weeks.
But perhaps more interesting...is the way some Greeks view the tussle between Germany/eurozone and Athens...as a Greek morality play...perhaps a Greek tragedy...and a battle between the mythological gods of yore.
Playwright Vassilis Dabellis sees Germany's Merkel as Agamemnon '...who decides to sacrifice Greece to contain the wrath of the markets.'
National media have even called Greece's possible expulsion from the eurozone :'Ifigenia syndrome.'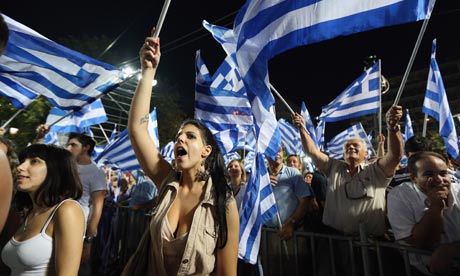 AND
: Candidates held rallies with final pleas to Greece's 10 mn voters...while Russia played Greece in football.
Polls close Sunday at 7 pm...with first results probably...by 9:30.
http://www.bloomberg.com/news/2012-06-15/greek-candidates-make-final-pleas-before-vote-with-euro-at-stake.html