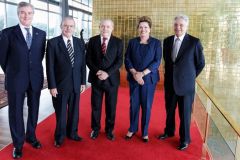 http://www.bbc.co.uk/news/world-latin-america-18087390
The new 7 member Truth Commission was sworn in by President Dilma Rousseff.
It's mandate is to look into human rights abuses during the long military dictatorship.
Rousseff vowed that the commission would not by moved by 'hatred' or 'revenge'.
Brasil's 4 living presidents attended the ceremony.
The commission has only 2 years to probe human rights abuses.
AND: President Rousseff lauded a freedom of information bill taking effect...that she claims will challenge the nation's culture of secrecy.
http://www.google.com/hostednews/ap/article/ALeqM5hQoGQ_iMLSWBraRAWyGL910O2hXw?docId=ba813e0723f04660878e99d7ceffdc81