http://www.telegraph.co.uk/news/worldnews/southamerica/argentina/9284201/Bomb-found-in-Buenos-Aires-theatre.html
A simple small bomb planted in a large Buenos Aires theater...intended to explode during a reception for former Colombian president Alvaro Uribe...was found and dismantled.
The cell phone activated explosive was hidden in a lamp in a salon on the second floor of the Gran Rex Theater in the center city.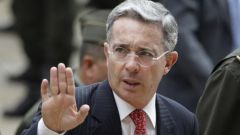 Uribe was scheduled for an afternoon speech and followed by a cocktail reception.
He said that he would deliver his speech as planned.
Officials say the bomb would have wreaked little damage...but was intended to create 'havoc' and confusion.
Uribe is infamous for his hard line dealing with Colombia's FARC narco rebels.