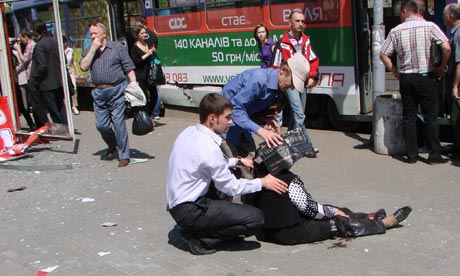 FIRST LINK CHANGE:
http://www.reuters.com/article/2012/04/28/us-ukraine-president-blasts-idUSBRE83R08I20120428
At least 30 people were wounded...including 10 children...after 4 bombs...hidden in garbage cans...exploded around the noon hour...in the major eastern city of Dnipropetrvsk...just weeks before the 8 June start of the much anticipated Euro 2012 football matches.
Terrorism is feared...though Ukraine has no recent history of terrorism.
President Yanukovych ordered a swift probe...and is offering a $250,000 reward for information about the '...act of terrorism.'
22 people are still hospitalized...with 3 in grave condition.
The city of 1.4 million is the birthplace of imprisoned and reportedly ailing ex-PM Yulia Tymoshenko...an outspoken opponent of President Viktor Yanukovych.
TO SEE: 1:05 Raw Video:
http://www.youtube.com/watch?v=QcKKLsCBqic&feature=player_embedded#!
TO READ: OPINION: Explaining the bombings in Ukraine; thugs, terrorism, Russians, Yulia supporters or an excuse for more crackdowns?
http://globalpublicsquare.blogs.cnn.com/2012/04/27/whats-behind-the-bombings-in-ukraine/