http://www.google.com/hostednews/ap/article/ALeqM5jLA2Vi2QOXkhGG3rsjMOCgqgpe1g?docId=ab71f482ee2c4205ba1affd502cccf22
The teenage daughter of a Chilean diplomat was gunned down by police...when the auto she was in...failed to stop at a checkpoint in Maracaibo.
Karen Berendique, 19, was a passenger in a car driven by her brother...and just 4 blocks from her home...headed to a birthday party...when she was shot 3 times...including a bullet to her head.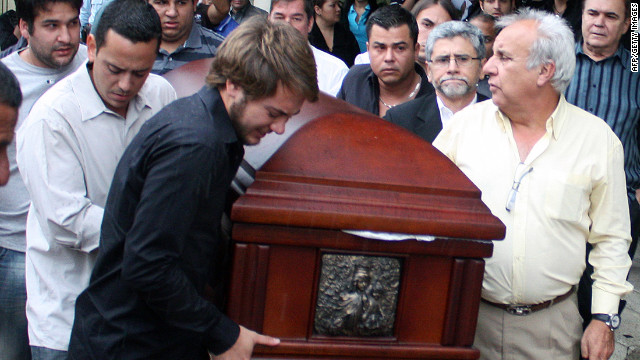 Her brother apparently feared that thieves were manning the night time roadblock.
12 police have been detained for questioning about the slaying.
AND:
On Friday...President Hugo Chavez made a triumphal return to Caracas after 3 weeks of cancer treatment in La Habana.
He was greeted by a throng of supporters.
On Saturday...he sang and danced with his daughter on the palace balcony...vowing to beat cancer...and his newest opponent Henrique Capriles Radonski, 39...for anther presidential term.
New polling shows Chavez with 56.6% support.
Chavez must undergo another round of radiation.
http://www.reuters.com/article/2012/03/17/us-venezuela-chavez-idUSBRE82G0EB20120317
TO SEE: 1:09 Chavez Return VIDEO:
http://www.guardian.co.uk/world/video/2012/mar/18/hugo-chavez-venezuela