NEW LINK
http://www.bbc.co.uk/news/world-europe-17366601
The Russian Orthodox church didn't like punk rockers from the band 'Pussy Patrol' performing impromptu...in one of their churches.
It called the feminist members...'sinners'...and the concert as 'boorish, arrogant and aggressive'.
Two members were arrested in Moscow on 21 Feb...for chanting anti-Putin slogans.
They face 7 years in prison...for 'hooliganism'.
Now a court there refuses to release the women...for 6 more weeks...even though they have small children.
AP reports that they have begun a hunger strike.
AND : Two band supporters in Siberia have posted artistic iconistic billboards to publicize their arrests.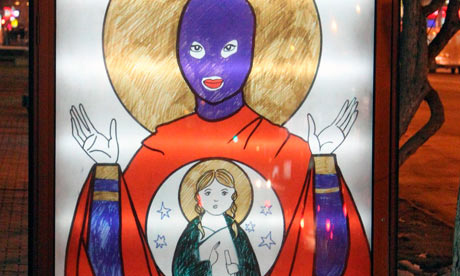 ORIGINAL LINK:
http://www.guardian.co.uk/world/2012/mar/12/russian-band-pussy-riot-sinners