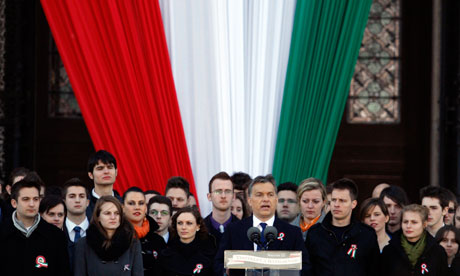 LINK CHANGE
http://www.guardian.co.uk/world/2012/mar/15/hungary-prime-minister-orban-eu
During a speech celebrating Hungary's uprising from the Hapsburg regime...PM Viktor Orban attacked Brussel's fiscal interference...calling it a Soviet-like bureaucracy.
Brussels allowed Spain's PM Rajoy to fudge his budget deficit...but would not let controversial populist PM Orban get away with it.
The EU will suspend E495 mn/$655 million in loans next year...unless Budapest passes more budget cuts in the next 3 months.
Austria called the decision a clear case of 'double standards.'