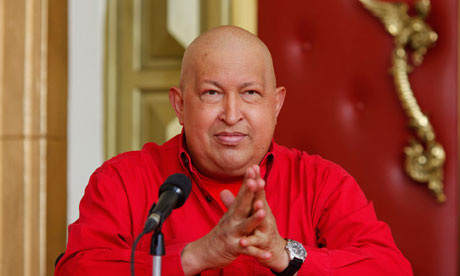 http://www.reuters.com/article/2012/02/29/us-venezuela-chavez-idUSTRE81S19V20120229
President Hugo Chavez reportedly came thru another cancer surgery in information secure La Habana.
The official report...is that a new malignant 'lesion' was successfully removed.
But...the rumor mill is hard at work again.
Venezuela's Nelson Bocaranda...twice a reliable opposition source on Hugo's poor health... and Brasil's Merval Pereira...are still claiming his cancer has spread.
No date has been announced for Chavez's return to Caracas.
ALSO: If Chavez dies...or remains ill...who would take his place in the October election?
In January, he demoted 2 possible successors... ForMin Nicolas Maduro and VP Elias Jaua...making them run for governor.
http://www.google.com/hostednews/ap/article/ALeqM5hrL0ywNoC2oqn5QTpxH7Qrzuo_PA?docId=aa5dddfdab5149d98a50f0602b5011ef