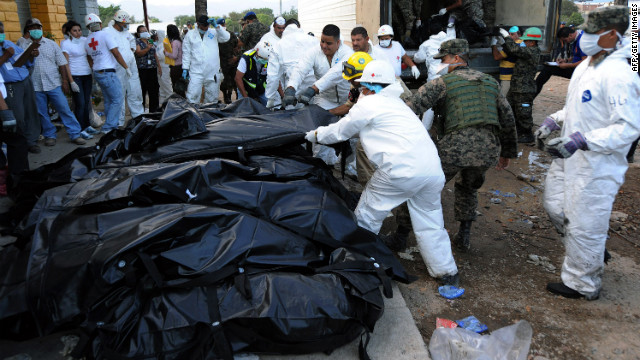 LINK CHANGE
http://www.google.com/hostednews/ap/article/ALeqM5izwwHJpzrFrBbk2EX82oe9RfnuSA?docId=9d6be78382f24bdfb11e428300f8943b
A massive clean-up of charred bodies has begun from the horrific fire that killed at least 358 prisoners in the Comayagua prison...45 miles from Tegucigalpa.
And new details about the horrific conditions inside the prison...are just starting to emerge.
Many prisoners housed there...had not even been tried and convicted.
Identification and the quantity of badly burned corpses are also taxing local morgues.
Some bodies have been sent to Mexico.
The prison's capacity was 250...but housed 852 inmates.
Many died...trapped inside their cells.
There was only one master cell key...and its holder reportedly fled.
It is the century's worst prison fire.
USA arson experts will help officials determine the fire's exact cause.
A deliberate mattress fire is the current theory.
But relatives of the dead prisoners don't believe it.
TO SEE: 9x easily accessible fotos:
http://www.guardian.co.uk/world/gallery/2012/feb/15/honduras-prison-fire-in-pictures
NEW!!! Honduras is now one of the most dangerous nation in Central America with 85 murders per 100,000...and virtually controlled by tattooed Mara gangsters robbing, killing and seeking weekly cuotas on buses, taxis and businesses...and Mexican narcos moving in.
http://www.reuters.com/article/2012/02/17/us-honduras-violence-idUSTRE81G1MI20120217